home
/ help /

Configuring WinZip Courier: ZipSend Options
The ZipSend service has been discontinued and replaced with the ZipShare service. As of WinZip Courier 6, ZipSend is no longer listed as a supported service.
ZipSend is WinZip's® file delivery service. Sending files through the ZipSend service can't be any easier! WinZip Courier was designed as the interface with ZipSend so you can just attach files to your emails and send them as normal without having to do anything out of the ordinary.
A ZipSend account is required to use ZipSend. You can sign up for a FREE ZipSend Lite account or subscribe to a ZipSend PRO account for even more features.
The way that ZipSend works is as follows:
You attach your files to your email.
When you click Send, WinZip Courier will detach your attachments from the email and zip them into a single Zip file.
It will then upload the Zip file to the ZipSend servers.
After the upload is completed, WinZip Courier will automatically insert the link to your files into your email.
After the link is inserted into your email, the email is finally sent to your recipient.
When your recipient receives the email, they can just click on the link and download your files from the ZipSend servers.
It's as easy as that! You no longer have to worry about your emails bouncing because your attachments were too big.
The ZipSend Options window control when to use the ZipSend file delivery service, sets if certified delivery of the email attachments is to be used by default, and allows you to enter your ZipSend account information.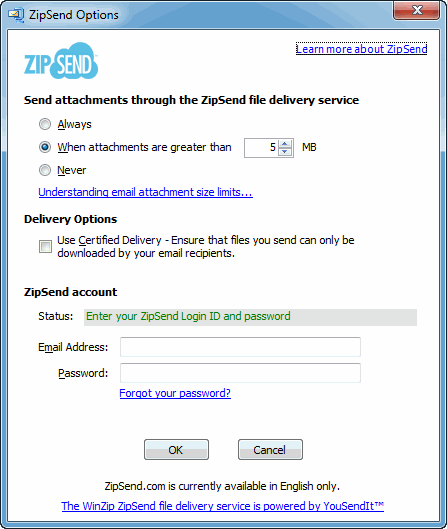 Send attachments through the ZipSend file delivery service
Choosing Always will cause WinZip Courier to always send your attachments using the ZipSend service no matter what size your attachments are.
Choosing When attachments are greater than allows you to set a preconfigured limit which when the size of your attachments exceed this limit, then WinZip Courier will automatically use ZipSend to deliver your attachments. The default is 5 MB.
Choosing Never will cause WinZip Courier, by default, to never use ZipSend to deliver your files no matter what size your attachments are unless you manually choose to use ZipSend on the new email message's ribbon or toolbar.
Delivery Options
Checking the box for Use Certified Delivery - Ensure that files you send can only be downloaded by your email recipients will cause your files to be sent via Certified Delivery. This means that ONLY your recipient will be able to download your files. They will need to have a ZipSend account using the same email address as in the To field in order to be able to download the files. Of course, if your recipient does not already have a ZipSend account, they can always create one before downloading your file.
ZipSend account
Enter your ZipSend account information in this section. You can enter both the Email Address and Password, or if you prefer to manually enter in your password every time that you will be using ZipSend, you may enter only your Email Address and Courier will prompt you for your password when necessary.
WinZip Courier Help Navigation