home
/ help /

Brief Tutorial - The WinZip Window
Click on each tutorial topic, in sequence, to learn all about WinZip®:
The WinZip window is where you start many of your operations. You can open it through the Start menu or by double-clicking on the WinZip shortcut on your Desktop. The WinZip window also opens automatically if you double-click on a WinZip file in My Computer or the Windows File Explorer.
The following screenshots are only intended to illustrate the general components of the WinZip window. Your WinZip window may look different based on your version and window settings. Please see The Intuitive WinZip Interface in the knowledge base for up to date and more extensive information.
The WinZip window looks like this: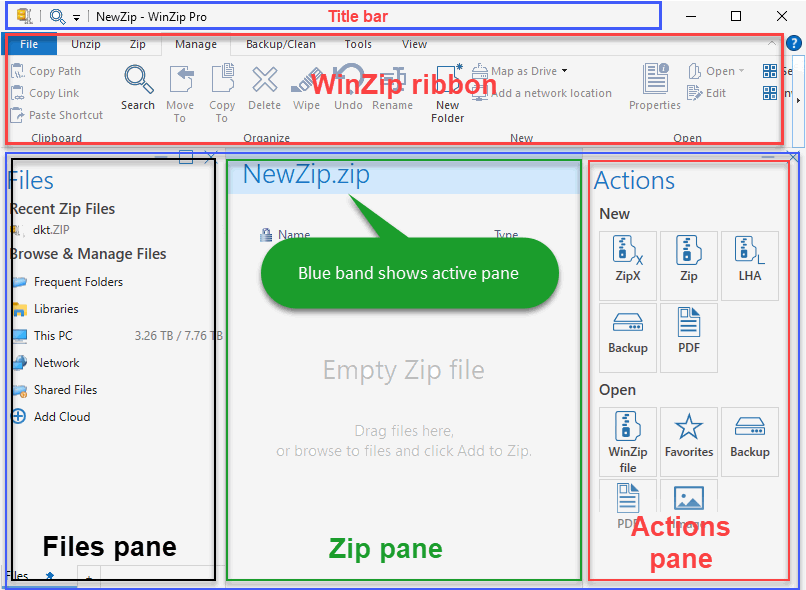 The WinZip window includes standard Windows components. Of particular interest:
The Title Bar displays not just the WinZip product title but also the name of the WinZip file you currently have open.


The WinZip ribbon provides a simple interface that organizes actions and options for ease of use.


The main window area is divided into three panes, only one of which is "active" at any given time. The active pane is inidicated by a blue band at the top and affects some of the WinZip interface such as the File menu.



The Files pane offers a view that is similar to Windows Explorer but includes access to your cloud accounts and some WinZip-related features such as recently opened Zip files.
The Zip pane shows the contents of an open WinZip file. Here you can delete, rename, copy, and perform many other actions on the items in your Zip files.
The Actions pane offers quick, context-sensitive access to common WinZip functions. The exact contents of the pane vary, depending on which pane (Files or Zip) is active and what is selected.