home
/ help /

WinZip Pro and WinZip Enterprise feature
Saving to the Cloud (WinZip Job Wizard)
When a backup is complete, WinZip® can save the resulting Zip file to a cloud service. To configure saving to the cloud, click Save to and then Cloud in the Specifications Complete panel of the Job Wizard.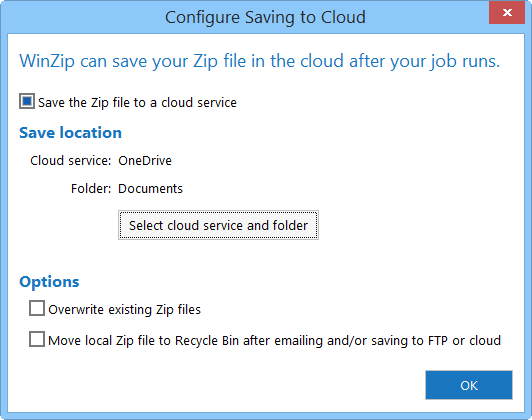 To enable saving to the cloud, check Save the Zip file to a cloud service, then click Select cloud service and folder. In the dialog that results, simply select the cloud service you want to use, navigate to the desired folder, and click Select. WinZip will prompt you to login to the service if necessary.
Normally, WinZip will not overwrite an existing Zip file with the same name. Check Overwrite existing Zip files if you want it to replace an older Zip file with the new one.
If you don't need the local copy of the newly created Zip file after it has been uploaded to the cloud, check Move local Zip file to Recycle Bin after emailing and/or saving to FTP or cloud.